The disappearing act of Uncle Alf Eastwood
This is a tail of how important it is to get multiple sources of information before they are considered factual
evidence forming your family tree.

The basic family story handed down from my Gran was that her Uncle Alf Eastwood fought in the Boer
war in South Africa and deserted, retuning to Blighty as Westwood some time after his disappearing act.

The truth (or rather, the records) is actually different but it shows you how family stories can change
or be recalled inaccurately over time. Some of the details are correct but its the numerical information in the
form of dates that's mainly incorrect.

Events in chronological order.

Alfred Eastwood was born on 24th February 1891 so was too young to fight in any Boer wars.
In Manchester, Alf joins up for the Royal regiment of Artillery (no 29715) on 7th October 1908 aged 17 Leaving a blacksmiths
job at New Moss colliery, Audenshaw & moves from 22 Audenshaw Rd (next to St Stephens school).
Although relatively minor, the first lie is his age. According to his baptism records, he is not 18 and 9 months as shown by the
attestation paper. This might be the parents fault as they did have 14 children.
The fact remains that during the early 1900's, the minimum enlistment age for the British Army was 18.

He leaves Gosport on 1st Dec 1908 and begins his military service in earnest.

In July of 1909, his medical records show him hospitalised for 19 days at Glencorse military hospital near
Edinburgh, Scotland with Gonorrhoea while in 21st company which is in Leith.
Before the first world war, it was a specialist referral centre treating this type of ghastly beastliness according to parliamentary records.

His Empire service abroad starts in Cape town, South Africa staying there from February 1910 for 5 years.
This is just a few months before South Africa began the journey to Independence from the UK starting with its unification.
By 3rd March, he is a gunner in the 84th company of Royal Garrison Artillery (RGA) who's divisional HQ is at Dover. The
March 1911 census for England and Wales confirms this was the state of affairs then.

He goes AWOL from the examination boat on Cape town docks on 21/02/1915. The court of inquiry (15/03/1915) declared
on Army Form B. 115 acting Bombardier Eastwood as a deserter: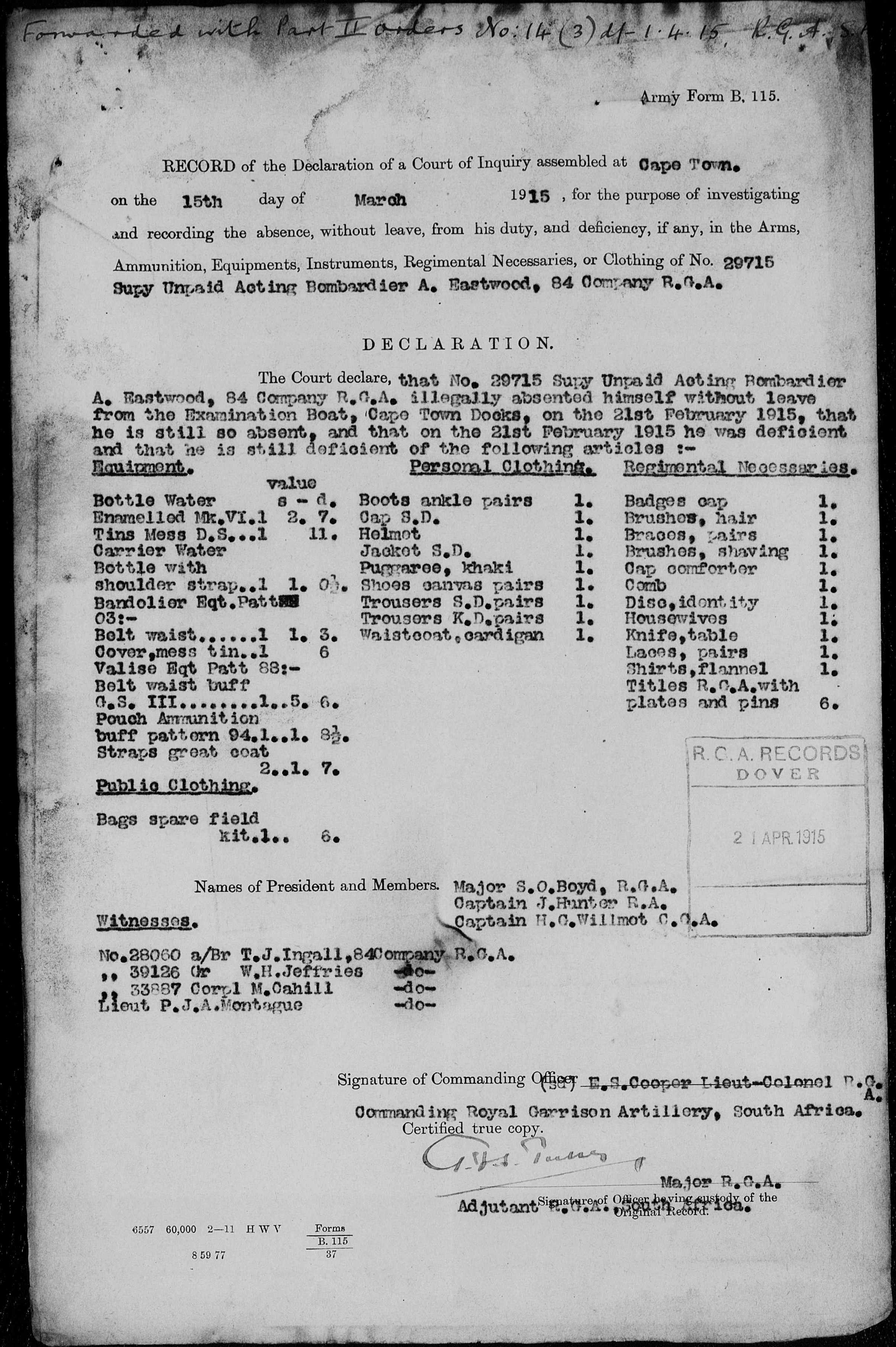 Family letters then get sent trying to locate Alf, recording the upsetting scene. The first one is from Alfs Brother in law,
Samuel Cheetham in October 1914:
This is curious because the letter is 5 months before he goes missing and officially declared AWOL.
Alf's Mother Ann Eastwood (Ann Barrett) enquires about his whereabouts again in June 1916, saying he was last heard of
entering the German East African Campaign :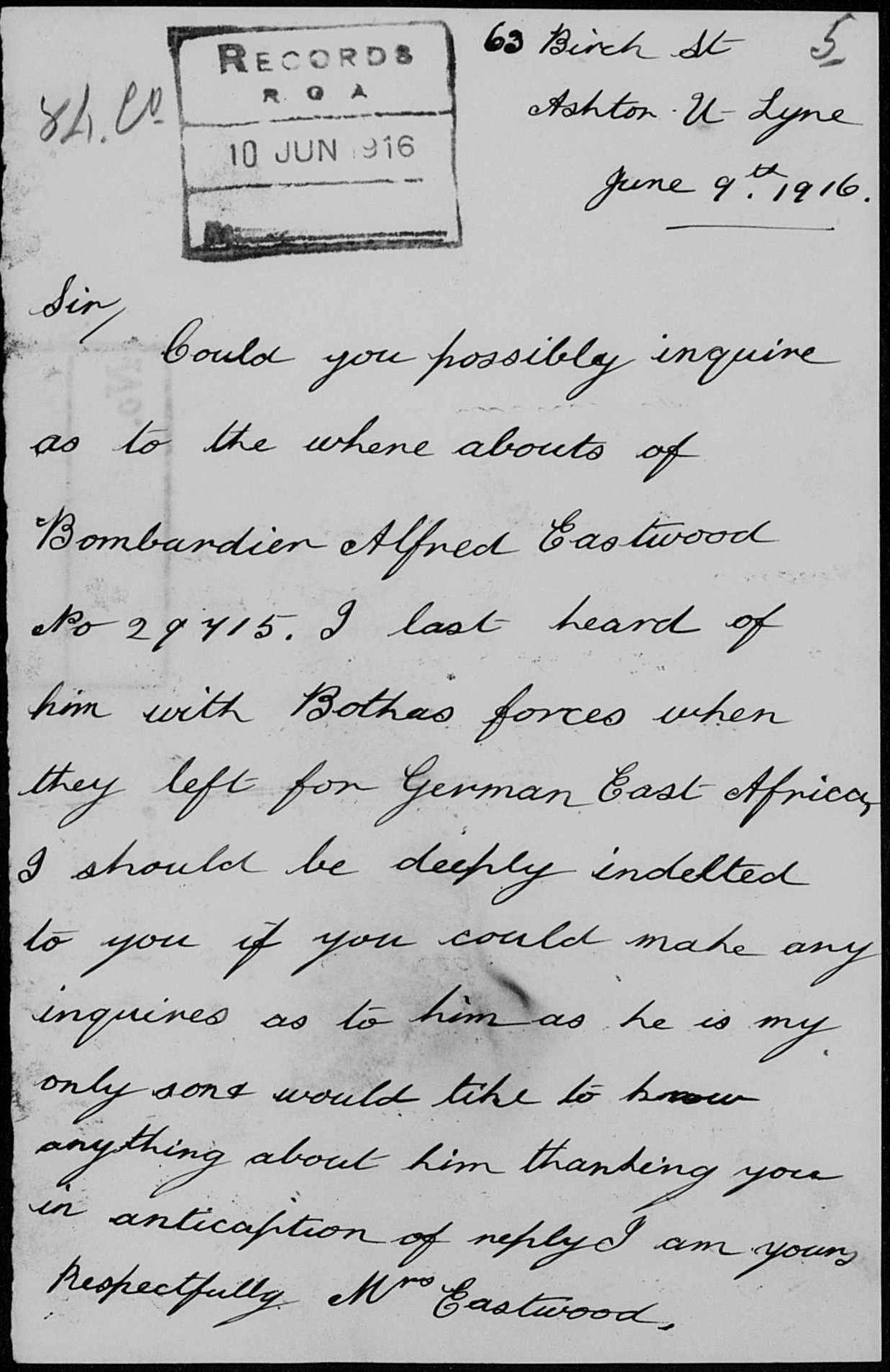 I suppose its at this point, Boer war and German East Africa can become confusing.
He was still missing in 1921 as his sister (Ellen Eastwood - Samuel Cheethams wife) was still writing to the Army.
We don't have a copy of the letter but we know from this record that the Army received it: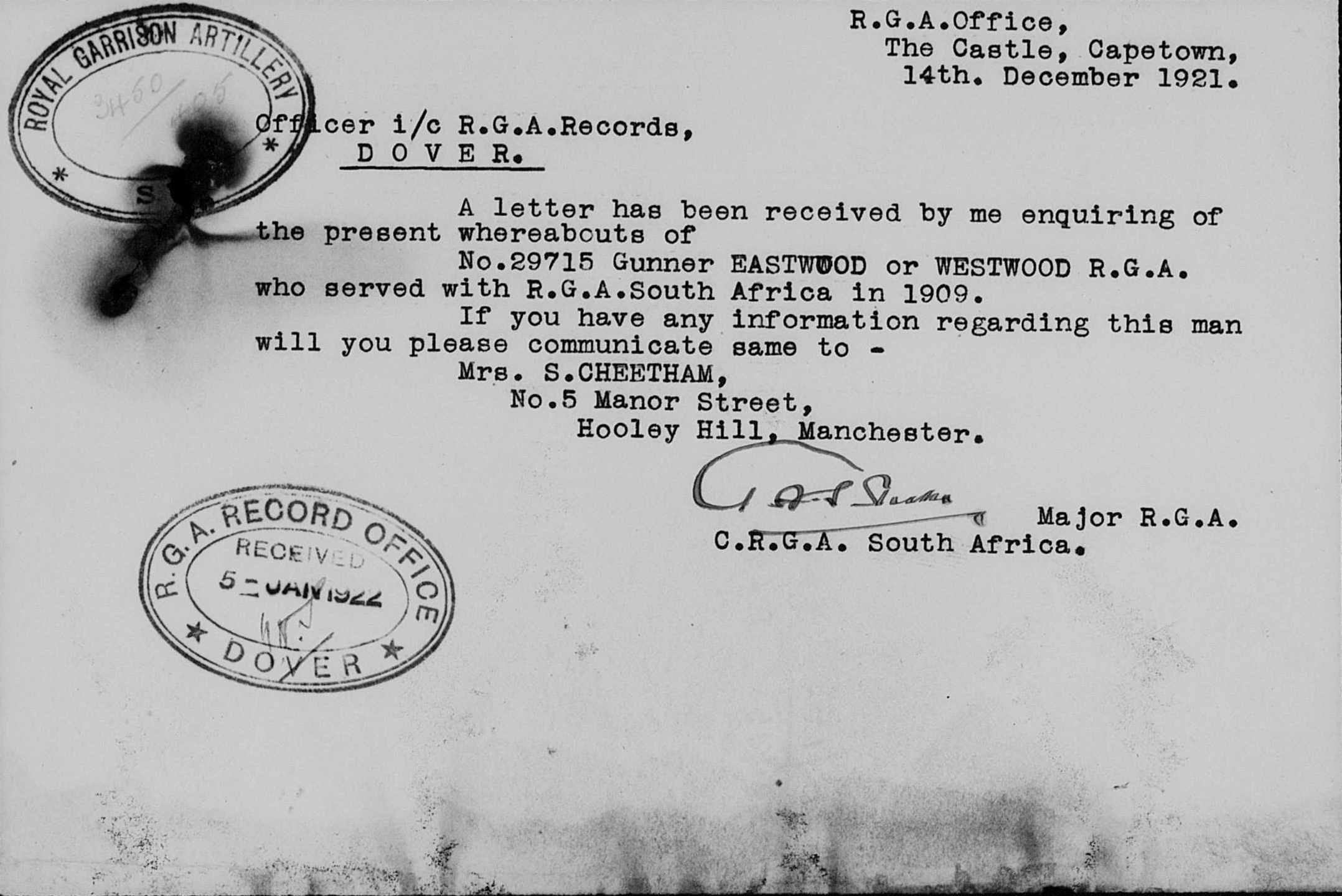 Maintaining correspondence with the Army could be a rouse by the family keep them off the scent. Its well known that
the forces actively track down deserters but I don't know if any such 'visits' occurred in this case.
The Westwood truth
The Eastwood family grave in St Stephens church yard commemorates Alfs death with the following headstone inscription:
Charles William Eastwood son of Alfred & Ann Eastwood who died 21st March 1900 aged 18 years.
Also Alfred Eastwood 14th April 1910 aged 55. Also Alfred son of above died Cape town South Africa
18th February 1923 aged 32 years. Also Ann wife of the above Alfred Eastwood (Senior) died
8th August 1924 aged 72
The important connecting detail set in stone is the date of death. A statutory death record exists in South Africa
for an Alfred Westwood who died in Victoria Hospital Wynberg. Date of death is the same as is birth year and
occupation.
Surprisingly, Alf is recorded as married but his wife does not register the death.
The Elopement
Piecing together the known facts about Alfs death lead to the discovery of a marriage record.
Alf marries Sarah Sophia Sheldon at St. Saviour's church in Claremount, south of Cape Town
on 11th October 1915, 8 months after going AWOL.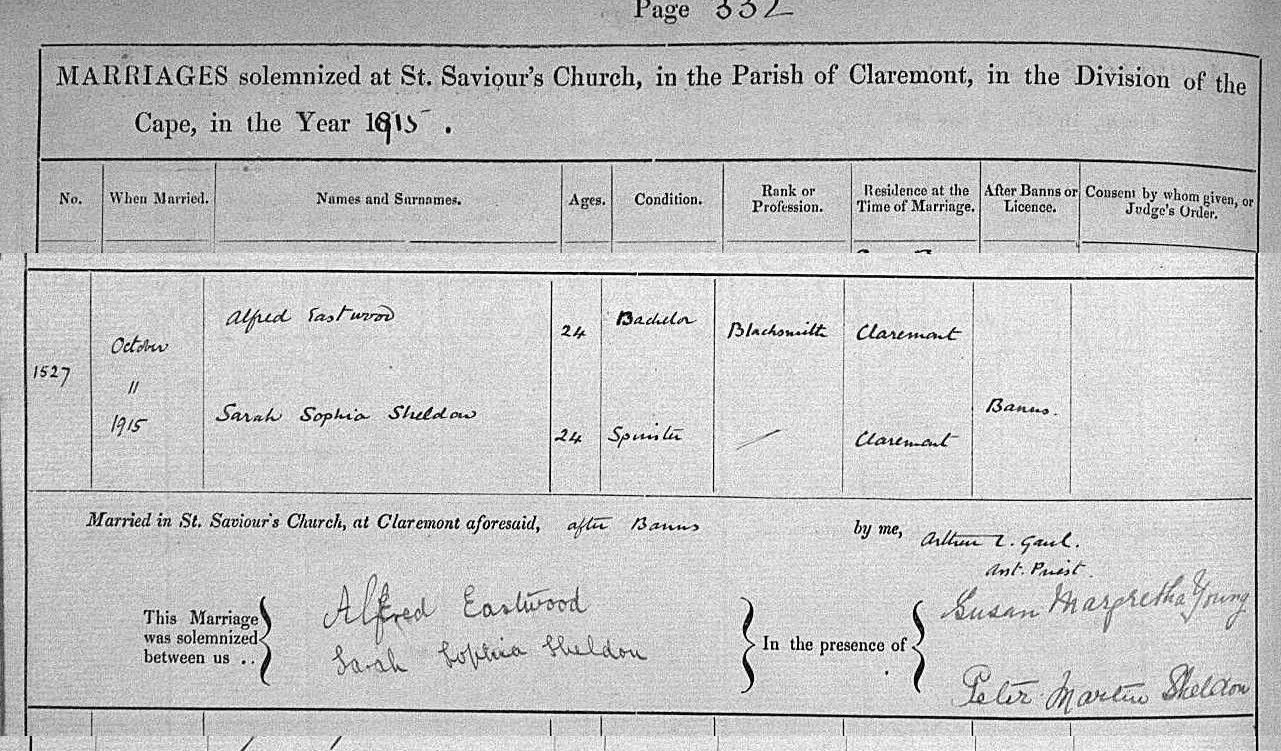 The connecting details on the register entry are his age and profession before enlisting - blacksmith.
The signature on his attestation paper seems to be similar to that on the above record.
Sadly, no trace of Sarah Sophia is found or any offspring. The mystery continues but at least one rumour is confirmed.
He did change his name to Westwood but we don't know if he ever came back to England.

Sources.
First World War soldiers' service and pension records (WO363) - The National Archives
L923 Monumental Inscriptions of St Stephen's church yard Audenshaw, Tameside local studies. (qL923)
House of Commons oral Q&A 29 April 1913, volume 52 of Hansard
South Africa, Cape Province, Civil Deaths, 1895-1972 from IGI
South Africa estate records - Church of the Province of South Africa, Parish Registers, 1801-2004.

Thanks to Michael McCann for his invaluable assistance with South African records.
Last updated 25-February-2020